So I'll be treating this thread as both a Hentai thread and a general favorite pairings thread.
For both pairing purposes and fap material.
--
Demando/Saffir (See my icon, one of my Sailor Moon OTPS
Kunzite/Zoicite
Tiger's Eye/Fish-Eye
Kunzite/Mamoru
Nephrite/Jadeite
Fiore/Mamoru (Yes, I fap to yaoi >.>)
For general pairing purposes.
--
Usagi/Mamoru (Only in the first 2 seasons of the anime, the manga and PGSM. Definitely NOT in S through Stars in the anime when Mamoru got bleh)
Usagi/Seiya (Anime only)
Usagi/Rei (Anime only, they had terrific chemistry)
Kunzite/Minako
Minako/Rei
Makoto/Ami
Chibi-Usa/Helios
Chibi-Usa/Hotaru
Haruka/Michiru (No Duh, a classic pairing and the only stable one in the whole series)
Minako/Usagi (I'm slowly getting into this pairing.... It could be interesting mostly only in the manga though since in the manga, Venus was the closest Senshi to the Princess.)
I also sort of like Haruka/Usagi, but not really because I can't bear to break up Haruka and Michiru
Also I love, LOVE the crossover pairing of Minako/Hatori (from Fruits Basket) They're one of my main pairings in a Fruits Basket/Sailor Moon Fusion fic I"m working on. I just think they suit each other, their pasts are a lot alike and Hatori is a lot like Kunzite in my opinion.

_________________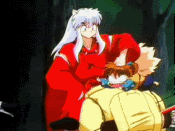 Resident Inuyasha Fangirl